The most iconic Australian cake has got to be the Lamington. So Australian they have a national day, but what sets these Lamingtons apart from the regular supermarket packet alternative?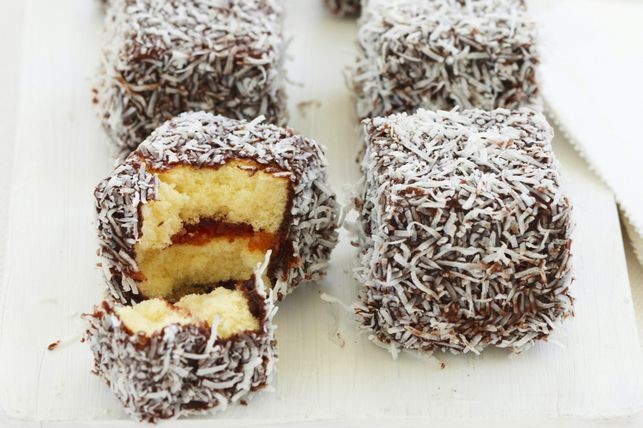 Drum roll...our recipe uses Quincey Jones Strawberry and Pimms Jam. Picked from the Yarra Valley, our strawberries are mixed with a little Pimms during cooking, giving an extra kick of both flavour and elegance. Try it out now.
What you need:
250g butter softened
250g caster sugar
4 large free range eggs at room temperature
350g self raising flour sifted
1 tspn vanilla extract
3/4 cup full cream milk
270ml Quincey Jones Jelly Strawberry and Pimms Jam
7 cups icing sugar
1/2 cup dark sweetened cocoa
2 tbspn unsalted butter softened
1 cup boiling water
6 cups shredded coconut
Method:
To make the sponge slabs, grease and line two 30cm x 20cm baking trays and set aside.
Place the butter and sugar into the bowl of an electric mixer and cream the mixture on a high speed until light and fluffy (approximately 5 minutes), then add the eggs, one at a time, and continue to whisk until each one is mixed in well.
Reduce the speed of the mixer to low and slowly add in the flour and vanilla. Once well combined, pour in the milk and continue to mix until you have batter like consistency.
Pour the mixture evenly between the 2 baking trays and place into the preheated oven to bake for 18 to 20 minutes, then remove and place onto a wire rack to cool.
Meanwhile, to make the chocolate coating, place the icing sugar, cocoa and butter into a large mixing bowl, then pour in the boiling water and stir until smooth. Set aside.
To assemble the lamingtons, trim the sides of each of the sponge slabs, cutting approximately 1cm off each side, then carefully trim the top off (approximately 3mm).
Evenly spread the strawberry jam over the top of one of the sponges and place the second sponge on top.
Cut into 12 even portions.
Place the coconut onto a tray and spread out.
Dip each piece, one at a time, into the chocolate coating mixture, ensuring that all sides are covered.
Toss chocolate covered sponge in coconut.
Place onto a platter and serve. You can also try our recipe using our flavourful Strawberry or Raspberry Jams.
All our produce uses home grown Australian produce and contain 75% fruit. Shop online now for delivery to your door.