Quincey Jones Jelly Preserves Co is celebrating after winning a Silver Medal at the 2019 Australian Food Awards (AFA), for their Onion Jam, in the Savoury Relish product category.
This is the first time that Quincey Jones Jelly (QJJ), a family owned business in Echuca/Moama, has entered the prestigious competition and are delighted and proud to have won a medal in its debut. While the recognition is very nice, indeed, the feedback and learnings imparted by the judging comments is the real value to QJJ. These learnings only serve to make our products better and tastier for our customers, whilst also, putting us in good stead for next years competition. We are already bubbling with energy and ideas.
The AFA, conducted by The Royal Agricultural Society of Victoria (RASV), offers Australian producers broad opportunities to leverage their success locally and internationally with AFA's national brand seal of quality. Entrants have the opportunity to benchmark against set criteria; receive invaluable independent feedback from industry experts; and be rewarded for excellence.
We are delighted to win a silver medal at the AFA, as it really confirms that all the hard work is paying off and our products really are of a high standard," said Tim Harley, Moama business owner, QJJ.
Customers looking to purchase the award-winning products are encouraged to visit our local stockist (Pacdon Park Produce Store, Echuca Moama Tourism Centre), visit us at the Echuca or Moama markets or visit www.qjj.com.au for online purchase and home delivery.
For all enquiries including photo or interview requests please contact:
Timothy Harley
Business Owner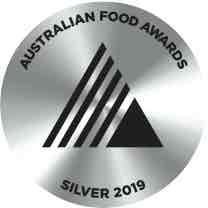 Quincey Jones Jelly Preserves Co.
Mobile: 0403 444 259
Email: quinceyjj@gmail.com
Web www.qjj.com.au
Instagram @quincey_jones_jelly
Facebook www.facebook.com/QuinceyJonesJelly