Posted by Timothy Harley on 26th Jul 2021
The Worlds best Scone Recipe is.... well before we get to that we should start with a little bit of history. We like a bit of history. We all consider Scones to be as Australian as Lamington's, Vegemite and Fairy bread and this feels right to us at Quincey Jones Jelly Preserves but the true history of the scone is a little bit more complicated.
Scones are traditionally connected with Scotland, Ireland and England, but exactly who deserves the honour of invention, no one knows for sure. Scones may well have originated in Scotland. The first known print reference, in 1513, is from a Scottish poet. In earlier eras, however, there were no food columns in the local papers, nor Mr Google to look up recipes. Indeed, much of the population was illiterate! So a little bit of uncertainty around its origins persist.
It is believed, that historically scones were round and flat, usually as large as a medium-sized plate. It was made and baked on a griddle (or girdle, in Scots), then cut into triangular sections for serving. Today, many in Scotland would call the large round cake a bannock while we in Australia might cheekily refer to it as a 'dropped scone'. With the advent of modern ovens and baking powder, Scones morphed into the fluffy, individual servings we know today, commonly associated with jam and clotted cream. This we can all agree, is a blessing of our more enlightened times!
With this established, (sort of), we hope to iron out another contentious issue; how to pronounce scones?! This is best illustrated by the following poem
I asked the maid in dulcet tone
To order me a buttered scone;
The silly girl has been and gone
And ordered me a buttered scone.
We will say first up that both interpretations of the pronunciation are acceptable! Generally speaking, however, the pronunciation rhyming with 'gone' is dominant in Scotland and Northern England, while in Southern England and America is more commonly pronounced as rhyming with 'tone'. No doubt this issue will continue to create 'bunfights' around the world but the best way to resolve any arguments is to stuff the mouths of any agitator with a tasty, fluffy scone! They can't make a noise when their mouths are full! So this is the best place to move on to the actual World's best Scones Recipe....
There are two main contenders for the World's best recipe. The first 'Classic Scone' incorporates the gentle mixing of butter into well-sifted self-raising flour, adding milk (or buttermilk or cream depending on the level of naughtiness), a sprinkle of salt and sugar and very softly kneaded into a dough and portioned for the oven. Rather than spell out the recipe here, we have linked a very good video.
The second contender for the crown of best scones recipe goes to the 'Lemonade Scone'. The lemonade scone is quicker than the 'Classic Scone' as it does away with the butter to be mixed and substitutes in lemonade. These are possibly the easiest scones you will ever make and the results will amaze you. They may rise a little less than the 'Classic Scone' but the difference will be imperceptible. With a few secret tips included below, we are sure you may be able to make them even better. We will let the 92-year-old, Muriel from the CWA explain her 'Lemonade Scones'
So before we decide on the best recipe we want to spell out our 5 insider tips for making the best scones!
Number 1. Always use cold ingredients! Cold Milk, cold cream, cold butter. Especially when making a classic scone recipe. It is essential, as using cold ingredients prevents the butter from melting before the scones are baked, leaving it instead to melt in the oven and create a super-flaky end result.
Number 2. Use Pastry Flour instead of All-Purpose Flour! This will result in a lighter scone. Pastry flours have less protein than all-purpose flour and will give a lighter fluffier result.
Number 3. Be very gentle with the dough! Over-mixing the dough is a common mistake to avoid. Overworking the dough will lead to scones that are tough and chewy, rather than light and flaky. The key is to use a light hand and work the dough until it just comes together. Expect your dough to have lumps and bumps in it — once it just comes together, it's ready to be used.
Number 4. Chill the dough before baking. As previously mentioned, it's crucial to keep the dough cold so that the butter doesn't melt before the scones are baked. While you're waiting for the oven to heat, put the dough in the fridge!
Number 5. Fresh is best! While scones will freeze, scones really are best when they are fresh and warm from the oven.
So with all this now under our apron strings, we could say that the World's best Scone recipe is the recipe that you like the most. If you value tradition and don't mind the extra work the 'Classic Scone' is the best while if you value speed, efficiency and guaranteed brilliant results then the 'Lemonade Scone' is the way to go. Indeed many of our customers have told us that this is their tried and tested method.
This however is still too subjective for us. We believe that the World's Best Scones recipe is one that has the world's best jam on it! And of course, that would be the Quincey Jones' Jam. It could be on of our Raspberry Jam, Strawberry & Pimms, Blackberry & Chambord, Mango Lime & Vanilla Jam, Fig & Earl Grey Tea Jam, Mixed Berry Jam, Blackcurrant Jam, Raspberry & Liquorice Jam or even our Apple & Rosé Wine Jelly as seen below.
However you spread it or cut it, a Scone wouldn't be the same without the best Australian fruit in the best Australian Jam! That's definitely a Quincey Jones Jelly jam!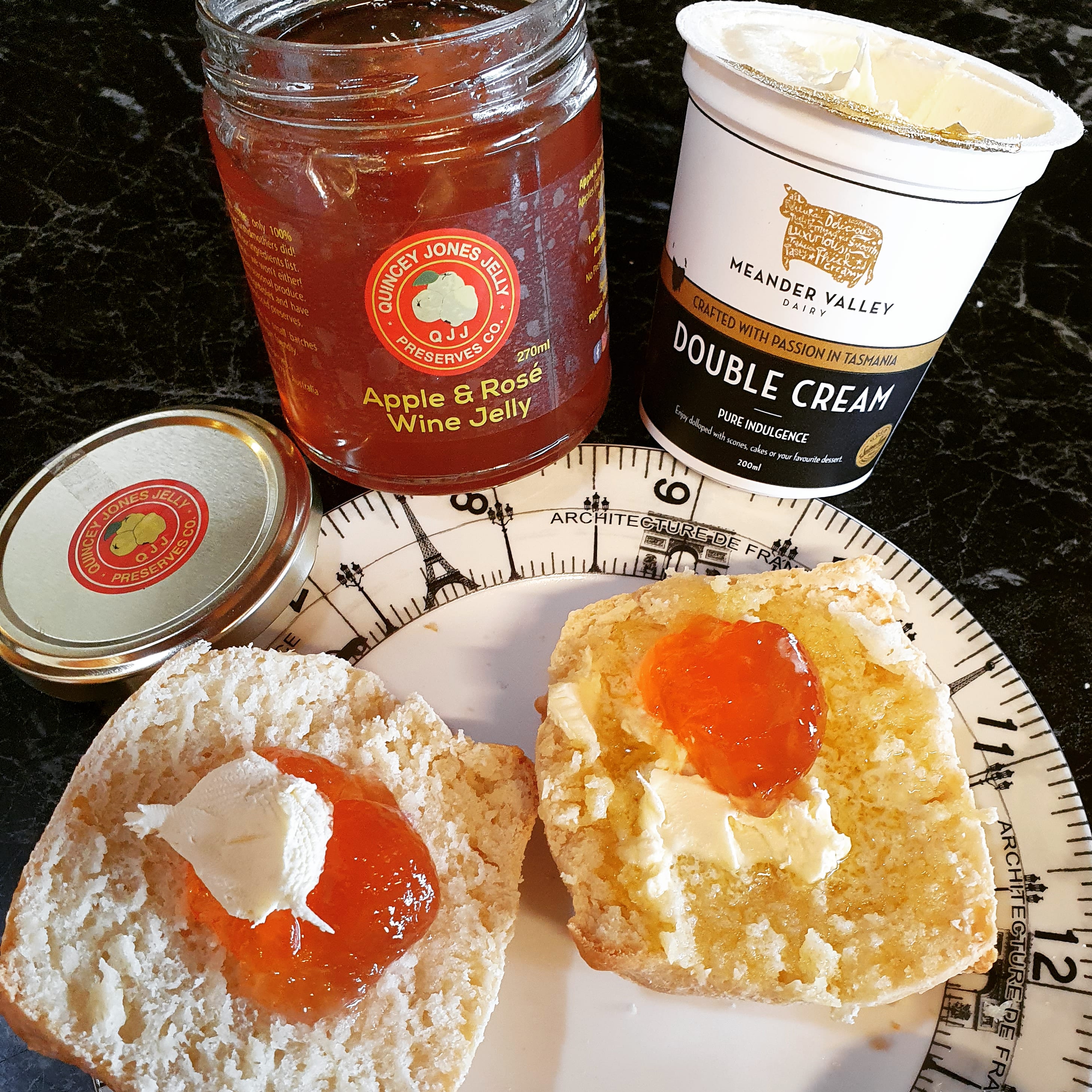 Happy enjoyment! Yours always in a jam or a pickle,
Tim Harley, Founder, Quincey Jones Jelly Preserves Co.